Welsh Women Walking smash fundraising target
20th April 2012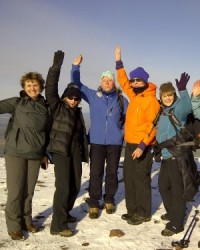 Richard Parks will be leading a special 737 Challenge Everest Base Camp trek this Sunday to raise funds in aid of Marie Curie Cancer Care and the Welsh Women Walking group who will be joining him on the trek through the Khumbu Valley have smashed their £20,000 fundraising target before they have even set off.
15 members of the group will join Richard on what is without doubt one of the most famous treks in the world. They'll be trekking into the heart of the Nepalese Himalaya, with awe-inspiring views of many of the world's highest and most beautiful mountains.
Welsh Women Walking set themselves a fundraising goal of £20,000 and are thrilled to have raised over £22,000 to date. The founder of Welsh Women Walking Jacquie Williams stated; "Welsh Women Walking are delighted that we have already achieved the target we set to fundraise for Marie Curie in support of Richard's 737 Challenge before we leave for our trek on Sunday. I think our final total will be close to £25,000 thanks to the incredible generosity of our friends, family and supporters. And now the fundraising mountain is over we have the trek itself to look forward to!".
Richard Parks stated; "It's awesome that Welsh Women Walking have reached their fundraising target and I am immensely grateful for all their hard work to raise funds in aid of Marie Cancer Care. They are another amazing example of the many people who have helped me towards my target to raise £1m in aid of Marie Curie and I am so thankful to everyone who has donated or fundraised so far. We still have a long way to go but every ounce of effort and every penny counts and it is fantastic that Welsh Women Walking have raised such a significant amount".
The 20 day trek led for the first time by Richard Parks will see the group trek to an altitude of 5,544m/18,188ft. Richard is also leading a fundraising trek to climb Kilimanjaro, the highest mountain in Africa in September and if you would like to help raise funds in aid of Marie Curie and join Richard on the trek, click below for more information.
Richard's 737 Challenge has now raised over £300,000 and Richard is continuing to put all his time and effort in to raising as much as possible in aid of Marie Curie Cancer Care until the end of July. If you would like to help Richard fundraise, it's easy, click below to see 6 simple steps of how you can get fundraising to help Richard raise funds for an amazing cause.
JOIN RICHARD ON THE FUNDRAISING KILIMANJARO TREK
WANT TO HELP RICHARD RAISE FUNDS IN AID OF MARIE CURIE CANCER CAEE? HERE'S HOW TO IN 6 SIMPLE STEPS