Register for News Updates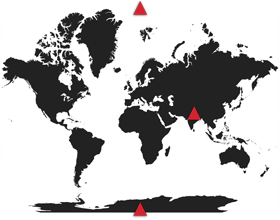 The 3 Poles
The world's 3 Poles are The South Pole, The Geographic North Pole and the summit of Everest. The top, bottom and roof of the world!
The 737 Challenge will begin 100 years from Captain Robert Falcon Scott's 1910 Terra Nova expedition, which also began from Cardiff. Richard will venture by ski to the South Pole, starting from 89 degrees south, battling the last 60 Nautical Miles (around 100 km) to The South pole.
Steve Williams, the double Olympic gold medal rower, will team up with Richard and Matt Spenceley to venture the last degree north, 105km to The Geographic North Pole. Combating one of the most hostile environments on earth, they must negotiate the hazardous and changeable polar ice cap and face the prospect of swimming between icebergs.
The 3rd Pole, Everest, sees the cross over between the 7 Summits.
Steve will also join Richard on his ascent of Everest, the highest mountain on earth and possibly the crux of the challenge. They will follow Hillary and Tenzing's route via the South Col from Nepal.
To date, less than 20 people have stood on all 3 Poles. Of those, only a handful have claimed the 7 Summits as well. No one has ever claimed the 3 Poles and 7 Summits in the same calendar year.
Richard is aiming to become the first person to stand on the 3 poles and climb the 7 summits in the same calendar year, in fact 7 months!
The 737 Challenge. A World First.