Sponsorship
Genuine world first opportunities are very rare. By joining us on this inspirational and record-breaking journey, your company will be ingrained into the legacy of a world first endeavour.
The 737 Challenge is like no other and offers a marketing platform like no other. The challenge provides a continued opportunity for your company throughout the 7 month race and beyond to December 2011.
A pioneering 7 month race to climb the highest mountain on each of the world's continents and venture to The South and Geographical North Poles.
A World First.
The clock starts December 2010.
"I have funded my training and the challenge to date myself. Investing all of my savings, and even moving back home with my parents to reduce my outgoings, however I am still a long way short of budget.
"The reality is that your sponsorship makes the 737 Challenge possible. Quitting is not in my nature. I will not give up on the mountains, neither will I in my quest to get to the bottom of them."

---
Sponsorship Opportunities
The following 737 Challenge packages are available in return for your support. In addition there is flexibility to offer exclusive title rights, product or service integration to promote your company.
Maximum of 4 sponsors in this category, guaranteed sector exclusivity.
Maximum of 8 sponsors in this category, 3 opportunities remaining.
Unlimited number within this category.

Download Sponsorship Pack (.pdf)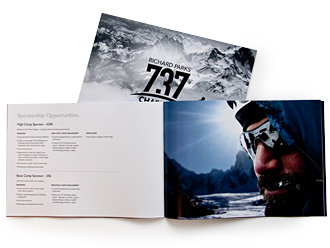 ---
Investing in the 737 Challenge
To support the 737 Challenge or for further sponsorship information please email us at sponsorship@737challenge.com or contact: