The 737 Challenge, working together with Jagged Globe, are excited to announce this limited and exclusive trek, led for the first time by Richard Parks.
737 Challenge Everest Base Camp 2012 Trek led by Richard Parks
Altitude 5,544m/18,188ft » Duration 20 Days
Sun 22 April - Fri 11 May 2012, led for the first time by Richard Parks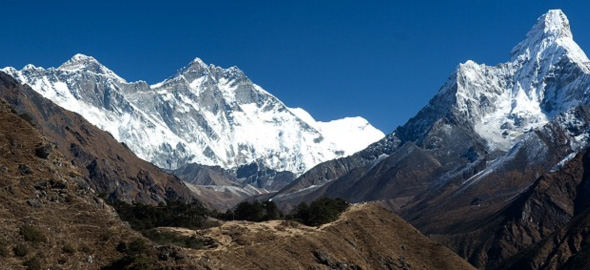 Join Richard Parks on an exclusive trek to Everest Base Camp in support of his 737 Challenge, which is raising funds in aid of Marie Curie Cancer Care.
The Trek
The trek to Everest Base Camp is without doubt one of the most famous in the world. It takes you into the heart of the Nepalese Himalaya, with awe-inspiring views of many of the world's highest and most beautiful mountains.
Set yourself your own challenge and trek to Everest Base Camp
Help Richard raise funds in aid of Marie Curie Cancer Care
See beautiful Mount Everest in all her glory and trek through the stunning Khumbu Valley
Trek alongside record making Adventurer Richard Parks who will be leading this once in a lifetime experience
Cost
The cost of the trek is £2,295 joining in the UK, or £1,655 joining in Kathmandu.

"Thank you so much for your support. It's fantastic that you will be joining The 737 Challenge Trek to Everest Base Camp. I was blown away by the trek up the Khumbu Valley during my challenge, such an incredible corner of the planet. It's the scale that got me, unlike anything I'd ever seen before.
I can't wait to go back, I hope you're as excited as I am!"
"We will all have different motives for this once in a life time trek to Everest Base Camp, however in attempting the trek you are not only challenging yourself positively, but you will be making a huge difference to lives of so many in supporting the charity Marie Curie Cancer Care. We are aiming to raise £1m in aid of Marie Curie and every penny you raise will really make a difference. Thank you."
Why help Richard Parks and Marie Curie Cancer Care?
The 737 Challenge is proudly raising funds in aid of Marie Curie Cancer Care. Cancer affects each and every one of us, either personally or through someone we know.
Marie Curie Cancer Care provides hands-on nursing care, totally free, to give terminally ill people the choice of being cared for and dying at home, supported by the people they love. Marie Curie is also the largest provider of hospice beds outside the NHS, providing specialist care to the large number of terminally ill people who wish to be cared for in a hospice setting.
Your kind support of the 737 Challenge would therefore have a significant impact on the lives of many terminally ill people and their families.
What to do next
Download Full Itinerary
» Download a full Intinerary of this Everest Base Camp Trek.
VIEW AMAZING PICS
» View pictures from Richard's climb to Everest Base Camp during the 737 Challenge.
BOOK YOUR PLACE NOW
» To book your place or for more information on the 737 Challenge Everest Base Camp Trek 2012 led by Richard Parks:

Call Jagged Globe on 0845 345 8848
Email natalie@jagged-globe.co.uk
All booked up?

Itinerary
Our itinerary is carefully designed to ensure you have adequate time to acclimatise comfortably, thereby enjoying the trekking experience to the full. The high point of the trek will be the climb to the famous Everest viewing point of Kala Patar (5,600m). We will also visit the actual site of base camp, below the tumbling Khumbu Icefall, from where Richard made his ascent of Everest in 2010.
After exploring Kathmandu, we fly in a Twin Otter aircraft to the mountain airstrip at Lukla and begin the trek up the Khumbu Valley. We pass through many Sherpa villages, including the famous trading town of Namche Bazar, as well as visiting the monastery at Thyangboche. The trekking is mainly on good trails, apart from the last day up to base camp, which is on moraine (rocky ground). You can expect to trek for 4 to 5 hours each day, but some days will feel harder than others, depending on the altitude gain. This trek is therefore suitable for reasonably fit walkers. We stay in lodges for the whole route and in the spring, you will see many Everest climbing teams in base camp.