Press Centre
Please download the 737 Challenge official press pack, which includes a full biography on Richard Parks. For more information, quotes, video content, copy or high resolution imagery please contact us.
Editorial content
---
Press Access
Video Footage and Audio
To obtain VNR footage or audio from Richard Parks' 737 Challenge for broadcast or editorial use, please contact PR manager Tracy Pinder.
---
Media Partnerships
The 737 Challenge has built an impressive portfolio of media coverage as well as securing regular press partnerships to ensure maximum exposure at global, national and regional level ensuring visibility across all platforms of media.

Sports Media Services
Sports Media Services are the official filming partner of the 737 Challenge and have captured Richard's incredible journey. As well as capturing footage from every leg of the challenge, they have also filmed Richard's preparation and training. Sports Media Services broadcast programmes and live sport for BBC, ITV and S4C.
The filming of Richard's 737 Challenge from around the world ensures constant newsworthy footage is available for press use. Sports Media Services also provide regular challenge video content for the Welsh Rugby union website. Richard's regular 737 Challenge videos reach an audience of 40,000 views per video on wru.co.uk.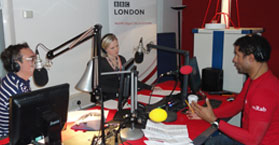 BBC One documentary 'Richard Parks: Conquering the World'
The 737 Challenge is thrilled that BBC Cymru Wales have commissioned a 3 part documentary, broadcasting the dramatic highs and lows of Richard Parks' world first 737 Challenge. The documentary titled 'Richard Parks: Conquering the World' will be broadcast on BBC One Wales during July and August 2011. To find out more or to watch episodes of the documentary click here.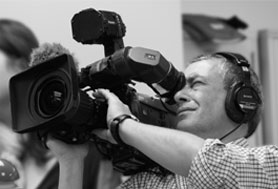 BBC Sport Wales
Richard also writes a regular BBC Sport Wales column.
Click here to read Richard's latest BBC Column.
Media Wales
Richard's Media Wales Online blog reaches up to 760,000 unique users each month. 737 Challenge features and news are also a regular part of all publications and online news owned by Media Wales including the Western Mail - 'National Newspaper of Wales', the Wales on Sunday and the South Wales Echo.
Collectively with online viewers, each month the challenge can reach over 4 million people through Richard's partnership with Media Wales.
---
APPEARANCES & PUBLIC SPEAKING
Richard Parks is represented by Wasserman Media Group.
If you are interested in Richard Parks appearing or speaking at your event, please contact: Jonny McWilliams at jmcwilliams@wmgllc.com
To keep up to date with Richard's latest press appearances follow Richard on Twitter for his latest whereabouts.
View Richard's behind the scenes and appearance picture gallery.
---
Find out more
For any further information or if you have any 737 Challenge press enquiries please contact:
Tracy Pinder
PR Manager
Richard Parks' 737 Challenge

Tel + 44(0) 7760 165165
Email tracy.pinder@737challenge.com