Register for News Updates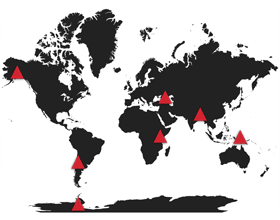 The 7 Summits
The 7 Summits are the highest mountain on each of the world's continents.
The idea of climbing the Seven Continental Summits was first publicised by American Dick Bass. However, 'The Bass list' includes Kosciusko, the Australian Summit, instead of the much higher and more difficult Indonesian, Carstensz Pyramid. The 7 summits including the higher Carstensz Pyramid was first climbed in 1986 and is known as the 'Messner list' after the exceptional mountaineer Reinhold Messner.
The quest to climb the highest mountain on each of the world's continents has captured the imagination of climbers and non-climbers throughout the world.
In 1990 Rob Hall and Gary Ball became the first to complete the 7 Summits within 7 months, using the Bass list. However in 2008 the Danish climber Henrik Kristiansen set the record for the 'Messner list' at 136 days.
To date, about only 170 people have completed the 7 Summits, so to climb them still remains relatively rare and exceptional.
However, less than 20 people have stood on all 3 Poles, of these only a handful has claimed all the 7 Summits as well.
No one has claimed The 7 Summits and the 3 Poles in the same calendar year, let alone 7 months.
Richard is aiming to become the first person to stand on the 3 poles and climb the 7 summits in the same calendar year, in fact 7 months!
The 737 Challenge. A World First.
---
Listed by continent:

Antarctica
Vinson Massif
(15,670ft / 4897m)
Chilean Sector
S.America
Aconcagua
(22,267ft / 6959m)
Argentina
Africa
Kilimanjaro
(18,864ft / 5895m)
Tanzania
Australasia
Carstensz
(15,629ft / 4884m)
Indonesia
Asia
Everest
(28,320ft / 8850m)
Nepal
N.America
Denali
(19,821ft / 6194m)
USA, Alaska
Europe
Elbrus
(18,054ft / 5642m)
Russia