Mount Everest
Asia: 8,850m / 29,036ft
27° 59' 17" N, 86° 55' 31" E
First Ascent: Sherpa Tenzing Norgay and Sir Edmund Hillary, May 29th, 1953

Climate at Everest
Typical weather stats during the challenge
-20 °C


Average temp. at summit

118mph


Possible winds at summit
Mt. Everest is the highest mountain on the planet, straddling the border of Tibet and Nepal in the Himalayas and endures as the goal of many mountaineers aiming to experience the roof of the world. It's this description that lends the summit of Everest being referred to as the world's 3rd pole.

About Mount Everest
Most attempts are made during May before the summer monsoon season, when average wind speeds are lower on the mountain. Attempts are sometimes made after the monsoons in September and October, however the additional snow deposited by the monsoons and the less stable weather patterns make climbing extremely difficult during this period.
From Everest base camp, 5,380m/17,70ft the route to the summit can be divided into four separate sections; The Khumbu Ice Fall which is a jumbled morass of ice-blocks, ice towers, and centuries old ice, riven by crevasses, all moving inexorably downwards from the Western Cwm to the Khumbu Valley, below. It's dangerous, as the ice is constantly moving and ice towers can collapse without warning. It is not a place for the faint of heart. The Western Cwm, which is a climb into the hall of the mountain gods. Awesome and gigantic walls tower over you as you move from Camp 1 towards the full expanse of the Cwm above. The Lhotse Face, Everest's most impressive wall. This steep section makes for the most grueling and technically intricate section on the mountain. Gusting winds, snow plumes and the sight of the steep face above greet you from it's base.
Finally, The Summit Ridge. Negotiating the Balcony, Hilary's Step just below the summit and the sheer drops from the ridge down the Kangshung Face on one side and the South West Face on the other.
Climbing Everest requires a high level of mountaineering expertise which can only be gained by experience. There are no short cuts.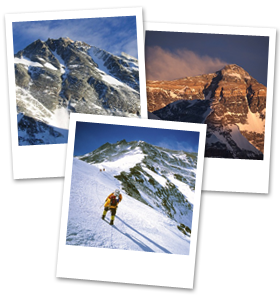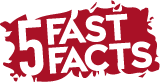 Everest is 5 and a half miles above sea level and equivalent to the size of almost 20 Empire State Buildings.
It's original European name of Peak XV was renamed to Everest after Sir George Everest, a British surveyor-general of India from 1830-1843.
It's local, Tibetan name of "Chomolungma" means "mother goddess".
The 'death zone' above 7,900m/25,917ft, is the point at which there isn't enough oxygen in the air to sustain human life. Richard and Steve will be using supplementary oxygen as do the vast majority of climbers. However there are a very small handful of exceptional individuals that have summited without supplementary oxygen. On 8 May 1978, Reinhold Messner of Italy and Peter Habeler of Austria were the first to ascent without supplemental oxygen.
Conditions are so difficult in the death zone that some of the corpses of climbers that sadly lost their lives on Everest have been left where they fell and are visible from the climbing route.