Rab help Richard towards his target
10th April 2012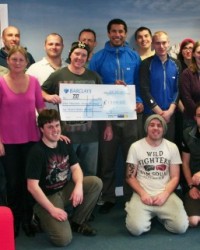 737 Challenge sponsor Rab not only provided Richard with the best clothing and sleeping bags for his record breaking challenge but they have been busy fundraising at Rab HQ to continue to support Richard towards his fundraising target for Marie Curie Cancer Care.
They raised £1,737 through internal fundraising and Richard recently flew to Norway to deliver a lecture in conjunction with Rab and Anton Sports in Oslo, which raised over £1,500 meaning Rab have helped raise over £3,200 towards Richard's fundraising.
Richard stated; "All the team at Rab have been hugely supportive of me and my 737 Challenge from the early conception. I am really proud to be a small part of the Rab team, lucky to wear their gear but above and beyond their sponsorship of the challenge they have been hugely committed to raise funds for my challenge which is raising funds in aid of Marie Curie Cancer Care"
Rab make clothing and sleeping bags for the most hostile environments in the world and as one of their Rab Professionals, Richard continues to work closely alongside Rab in the development of clothing systems and gear.
Richard added; "Its awesome to work with such a passionate and innovative team, I've been very grateful to have been able to use the best gear for the extreme environments that I faced and it is great fun to be able to continue developing new gear with the guys".
Richard's visit to Norway was a huge success and his lecture at Horgan's Bar in conjunction with Anton Sports and Rab attracted a packed house. Richard also took part in a new Rab photoshoot with fellow Rab athlete Aaron Mulkey in the Hemsedal area. He added; "It was great to be able to share my experiences of the challenge but also meet many of the people who had followed my challenge in Norway, they really went to a lot of effort to support my fundraising and had put posters up all over town about my lecture. It was awesome to spend time with Aaron Mulkey, there was a lot of climbing and mountain talk and it was great to meet him".
VIEW PICTURES FROM RICHARD'S RAB NORWAY PHOTOSHOOT
HELP RICHARD FUNDRAISE IN AID OF MARIE CURIE CANCER CARE