Cycle Challenge to help Richard raise funds in aid of Marie Curie Cancer Care
5th April 2012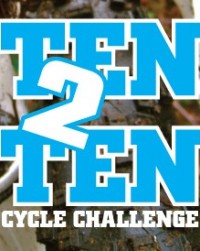 Ever fancied cycling 10 rugby clubs, across 2 valleys in 10 hours for a good cause? Well now you can!
An event called the Ten2Ten Challenge is helping Richard raise funds in aid of Marie Curie Cancer Care by organising a brilliant fundraising Cycle Challenge to be held on July 14th.
Father and daughter Phil and Laura Thomas from Ynyshir in the Rhondda Valley, along with the help of 10 rugby clubs have masterminded a fun but challenging 35 mile cycle challenge through 2 Rhondda Valleys to help Richard raise funds in aid of Marie Curie Cancer Care.
Phil Thomas and his daughter Laura were inspired to help Richard raise funds after following Richard's record setting 737 Challenge, Phil stated; "Everyone we speak with agree Richards' 737 achievement is astounding and awe-inspiring. We have all been captivated by Richards' journey, including his selfless fundraising efforts for a wonderful charity in Marie Curie. Laura and myself are truly delighted and humbled that Richard is entering the event. His presence will of course have a huge influence on Ten2Ten's success. Inspired by his courage and touched by his humility, we plan to make the 14th July a day to celebrate Richards' amazing achievement".
TEN RFC'S, 2 RHONDDA VALLEYS, IN TEN HOURS!
Competitors will pedal their way through 35 miles (15 of them off road), passing through RFC's: Pontypridd, Porth Harlequins, Wattstown, Tylorstown, Ferndale,
Treherbert, Treorchy, Ystrad, Cambrian Welfare, Penygraig before returning to Pontypridd where there will be a celebration BBQ event for all the competitors and their families and friends.
ENTER NOW!
Entering the cycle challenge is easy, all you have to do is fill out an application form, order a 737 Challenge T-Shirt which costs £25.00 as the entry fee and send your form and T-Shirt order to the Ten2Ten Team.
Click below for all the details and to download the application form.
Richard Parks will be taking part in Ten2Ten Challenge and stated; "I am always blown away by when people want to help me fundraise and Phil and Laura have put together a fantastic event that I am thrilled to be involved in. It should be an awesome day, a great challenge for people to take part in and a real fun event with some sweat and a lot of laughs. To start and finish it at Pontypridd, one of my former clubs will be brilliant and I am so amped that all 10 of the RFC's in the Rhondda have given the event their support and are also involved".
JOIN IN THE FUN & HELP MAKE A DIFFERENCE
By getting involved you could help Richard raise vital funds in aid of Marie Curie Cancer Care and make a real difference to the lives of people and families suffering with cancer and other terminal illnesses.
Cancer affects each and every one of us, either personally or through someone we know. The sad truth is that 1 in 3 people will suffer from cancer in their lifetime and 1 in 4 of us will die from cancer. Most people with a terminal illness would prefer to spend their final days at home. Sadly, only a quarter currently achieve this wish.
Marie Curie Cancer Care provides hands-on nursing care, totally free, to give terminally ill people the choice of being cared for and dying at home, supported by the people they love. Marie Curie is also the largest provider of hospice beds outside the NHS, providing specialist care to the large number of terminally ill people who wish to be cared for in a hospice setting.
Richard added; "This event will help my fundraising target for Marie Curie. I have a long way to go still and am fundraising as hard as I can every day until the end of July but I need your help, so please get involved. We've reached the £300,000 mark and I really hope people sign up to the event and get involved in fundraising to help me get to the next marker. Every little bit helps and this event will be a fantastic way to set yourself a challenge, have some fun but also help so many people living with cancer and other terminal illnesses".
DOWNLOAD THE TEN2TEN FLYER & APPLICATION FORM
Join the Ten2Ten Facebook Page