Richard presents Audi A1 to competition winner
10th October 2012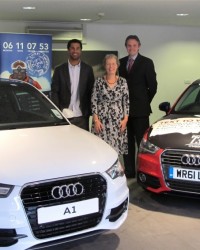 The 737 Challenge text to win an Audi A1 competition saw thousands enter to win a brand new Audi A1 which was kindly donated by Mon Motors Audi to help Richard raise funds in aid of Marie Curie Cancer Care.
We can reveal that the winner, selected at random was Naomi Shaw from Harpenden in Hertfordshire who entered the competition on 10th July. Naomi arrived at Cardiff Audi where she was presented with her brand new Audi A1.
She was thrilled to win the stunning new car and when she received a call from Richard Parks stating she had been the lucky winner she almost thought it was too good to be true; "At first I didn't quite believe I had won something, I thought someone was trying to sell me a new Audi as I couldn't quite hear what Richard was saying but when it sunk in I was totally thrilled!"
The 61-year-old self-employed Internet seller stated; "I am chuffed to bits, it's my first Audi and I'll use the car for buzzing around town and visiting children and grandchildren. It's been quite a year, I have had my first grandchild born, two children got married, my son left university and got a job and now I win a car on top of that, how can it have got any better!"
The 737 Challenge competition to win an Audi A1 helped Richard raise £14,033.44 towards his overall fundraising in aid of Marie Curie Cancer Care, which has already surpassed £300,000 with forthcoming plans to announce the final figure very soon.
Richard was proud to hand over the car to Naomi alongside Mon Motors Audi Managing Director Gavin Cleverly and stated; "It's awesome to finally be able to present the winner of my 737 Challenge text to donate competition with their brand new Audi A1. The support from Mon Motors Audi has been incredible throughout the challenge, not just very generously donating the new Audi A1 as the prize for the competition, but for supplying me with a car to use so I have been able to travel the country fundraising. They also provided a vehicle to promote the 737 Challenge and the competition itself. All of this incredible support has been a vital cog in my quest to have raised funds in aid of Marie Curie Cancer Care."
"On a personal note, It was great to meet the winner Naomi and I am super amped that the car has gone to such a good home as she is not just lovely and a huge fan of the challenge, but has also done a lot of work for charity over the years herself, so it's a happy day all round."
Richard added; "I'd just like to say a huge thank you to everyone that entered the competition, which made a massive difference to my fundraising quest, hopefully we'll get the chance to do something similar again when Project X comes around."
Gavin Cleverly from Mon Motors Audi, which has main Audi Centre's in Bath, Bristol and Cardiff stated; "From the first time I sat down with Richard and discussed the 737 Challenge, I knew that this was something he was going to achieve. We are so proud of Richard's achievement and delighted to have been able to aid his amazing fundraising effort in aid of Marie Curie Cancer Care with the Audi A1 prize donation."
Finally the happy winner Naomi stated; "It was amazing to meet Richard, he is such a lovely bloke, what he has done is just incredible and it was a fantastic day at Cardiff Audi, everyone was just so lovely."