Richard heads to South Pole for crucial expedition
7th November 2012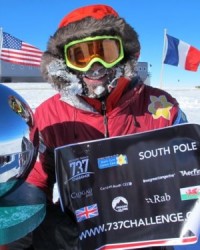 Richard Parks plans to head back to Antarctica next month to ski from Hercules Inlet to the Geographical South Pole.
Hercules Inlet is one of the recognised start points for South Pole expeditions on the Geographical coastline of Antarctica.
Richard's route to the South Pole will be approximately 1,200km/745 miles. The expedition will be solo and unsupported which means he will have to perform and survive in some of the most hostile conditions on the globe on his own, pulling everything he needs with no food drops or external support.
Although he is still fine-tuning his equipment supplies and working with sponsors and suppliers to reduce the weight as much as possible, his gear will weigh between 70 and 85 Kilos/11-13 stone.
Richard hopes to complete the journey within 35-40 days, although with safety contingencies and travel plans considered, the expedition will be around 7 weeks long.
Richard's South Pole expedition will form a crucial part of the research and development for his next world first project, known currently as Project X, which he has earmarked for 2014. Project X remains top secret for the time being until the explorer and adventurer announces his next pioneering challenge.
This is Richard's third R&D expedition this year. First off he returned to Aconcagua, the highest peak in South America before tackling North America's brutal Denali for the third time in what proved to be very difficult conditions and a perfect testing environment. The expedition to the South Pole will be a further step towards Project X.
Richard stated; "This expedition is the culmination of many months of research and development with my sponsors and suppliers and I am really excited to test these systems in a cold and hostile environment. Antarctica touched me deeply during the first leg of my 737 Challenge and has never left me, I feel very grateful and privileged to be able to go back. It was an incredible moment for me to stand on the South Pole and to have the opportunity to return again is really exciting."
He added; "This expedition will be 4 to 5 times longer than my first journey to the South Pole and significantly more challenging as this solo expedition will test me not just physically, but psychologically and emotionally in a different way."
Richard's focus for the expedition is very much research and development, his expedition target of 35-40 days means he will be performing amongst the very top of his field, and has already provoked talk of more records being broken.
Currently the fastest time to travel from Hercules Inlet to the South Pole, solo and unsupported was recorded by Norwegian Christian Eide who completed the journey in an incredible 24 days, 1 hour, 13 minutes. Eide's expedition to the South Pole began on December 20, 2010 during the same period Richard was also travelling to the South Pole. The two have since met at one of Richard's talks in Oslo. However, records for once are not on Richard's mind, he added; "The nature of travelling safely alone in this environment means my focus will be on efficiency. It's not a race, breaking records on this expedition is not my priority, my focus is getting there and getting back safely and enjoying the expedition….if I possibly can!"