Limegreentangerine win CIM Marketing Excellence Award for 737 Challenge
8th March 2013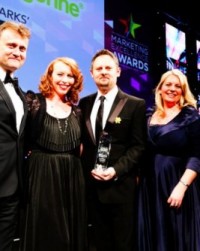 Richard Parks' design partners Limegreentangerine won the Chartered Institute of Marketing Excellence award for the SME category on Wednesday at a prestigious awards ceremony at Grosvenor House, London on behalf of Richard Parks' 737 Challenge.
Each year the Chartered Institute of Marketing presents it's Excellence Awards, celebrating the best marketing achievements across various industry sectors and acknowledge the contributions made by individuals as well as by teams.
Limegreentangerine on behalf of Richard Parks' 737 Challenge were named as finalists in 2 categories for a CIM Award, in the Not for profit category and the SME category. The SME (micro, small and medium-sized enterprises) category is for all SMEs that feel they deserve special recognition for exemplary marketing. Exemplary is exactly what the judges thought of Limegreentangerine and Richard Parks' 737 Challenge marketing campaign.
Winning the CIM Marketing Excellence Award in the SME category joins the growing list of awards and achievements that Richard's 737 Challenge has earned since he made history in July 2011.
Last year Richard was named Just Giving Celebrity Fundraiser of the Year, given the Rugby Writers' Club Special Award, awarded The 'Chancellors Medal' by the University of Glamorgan, and an Honorary Fellowship by the University of Wales. He also carried the Olympic Torch and was also named in the top 100 most influential people in Wales.
In 2011 Limegreentangerine won a Cardiff Design Festival Award for the 'best campaign' and also won the CIM Canmol Wales Marketing Award 2012 for their contribution and work on the 737 Challenge. Being named as the 2012 CIM SME winner is the icing on the cake after a successful few years working alongside Richard and the 737 Challenge team.
Beverley and Andy Rees, co-founders of Limegreentangerine stated; "We are very pleased to have won the CIM Marketing Excellence Award for our work on the 737 Challenge. It is a great testament to what a small team can achieve with a limited marketing budget. It proves that Welsh businesses can make a mark both nationally and internationally. This achievement sets a benchmark as we aspire to produce more award winning work, like this, for our clients in the future."
Richard Parks, who is currently competing in the world's highest mountain bike race in Nepal added; "It was awesome to hear such amazing news from the 737 Challenge team back home. It's fantastic that all the hard work by my design partner Limegreentangerine, Tracy Pinder who managed the 737 Challenge PR and Marketing and the 737 Challenge team as a whole has been recognised. Of all the achievements from the 737 Challenge, the thing that I am most proud of is what a small team of hard working, talented and passionate volunteers has achieved and this is just reward for my incredible 737 Challenge team."
Finally he added; "I'm sincerely grateful for the support I've had from Limegreentangerine and proud to continue the creative journey in developing my new website and working together with the LGT team on Project X. We are working on my new look website and branding at the moment which we will be launching in the following months and it's a really exciting time."