Richard Parks summits the highest mountain in South America
5th February 2011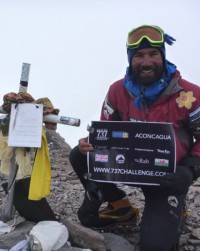 Richard Parks has successfully reached the summit of Aconcagua in Argentina, the highest summit in South America completing the 3rd leg of his world first 737 Challenge.
The former Wales and Barbarian rugby player turned mountaineer, summited the 6,962m high mountain, well over 22,000 feet at 2.54pm local time (Chilean time) and 5.54pm UK time.
Speaking from the summit of the 2nd highest of the famous "7 Summits" and the highest mountain outside of the Himalayas, Richard stated; "It's just an awesome feeling, an absolutely brutal day, 12 hour climb from 3am this morning to just before 3pm this afternoon, that's only half the job as we have to get back down now. It's pretty cold up here, the second we summated the fog came in, so absolutely no visibility but the views were pretty awesome before we got up here!"
After making the tough decision last night to summit from camp 2 as opposed to camp 3 following the news that bad weather was approaching over the next 5 days, Richard and his team had just a small weather window to attempt the summit, making the climb long and incredibly arduous with certainly no guarantees of summiting.
Richard was not only elated but physically short of breath calling in from the summit adding; "People talk about Aconcagua as being technically not challenging but oh my god, you know mentally and physically this is a tough beast. We have had a few tough days and today will be a 17 hour day. It's a tough animal and just fantastic to get it under my belt really".
CLICK BELOW TO LISTEN TO RICHARD'S INTERVIEW FROM THE SUMMIT.
After delays to the challenge following his last leg in Antarctica, completing Aconcagua in good time is a huge boost to Richard's race against the clock to climb the world's 7 Summits, which are the highest mountain on each of the world's continents, and venture to The North and South Poles, all in 7 months.
Richard's 737 Challenge aims to raise £1 million pounds for Marie Curie Cancer Care and you can help him raise funds for this fantastic charity by donating now, just click below to find out how you can play your part.
He has now conquered the South Pole, climbed Mount Vinson in Antarctica and reached the summit of Aconcagua in South America. Richard will now have a short rest in South America before travelling to Africa to climb Kilimanjaro. The world first 737 Challenge continues!
CLICK HERE TO LISTEN TO RICHARD'S INTERVIEW FROM THE SUMMIT
CLICK HERE TO DONATE TO RICHARD'S 737 CHALLENGE