Richard Parks summits Mount Vinson, completing leg 2 of the 737 Challenge
8th January 2011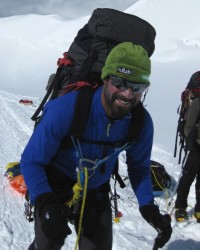 Richard Parks successfully reached the summit of Mount Vinson today completing the second leg of his world first 737 Challenge.
He reached the highest summit in Antarctica at 1.15pm local time (Chilean time) and 5.15pm UK time, and around 8 days ahead of schedule.
After reaching the South Pole on December 27th, Richard has now completed the first of the famous seven summits he will climb as he aims to become the first ever person to climb the highest mountain on each of the world's continents and venture to The South and Geographical North Poles, all against a 7 month clock.
In an exclusive interview from the top of Mount Vinson and also after his descent back to high camp, Richard stated; "We have had great weather on summit day today. We have been moving really quickly, we got up to the summit in about 4 hours and 50 minutes which is really fast as the normal times this season have been 6 – 9 hours. We got up there and were rewarded with the most breathtaking views. We timed it to perfection. I do feel privileged to be on Vinson, you can look around 360 degrees and 90% of the scenery you see is untouched by human hand, it is absolutely amazing. From a challenge point of view, it's fantastic to get the first mountain under my belt and hopefully we can build on confidence and momentum now going in to Aconcagua".