Richard Parks summits Mount Elbrus making history & completing the 737 Challenge
12th July 2011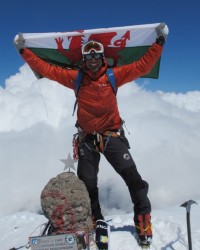 Today former Wales international rugby player turned mountaineer Richard Parks made history becoming the first ever person to stand on the highest mountain of each of the world's continents and all 3 poles (The North Pole, The South Pole and the summit of Everest) in the same calendar year.
He completed his world record challenge of conquering 7 Summits, 3 Poles in 7 Months in 06 months, 11 days, 07 hours and 53 minutes.

This morning Richard reached the summit of Mount Elbrus, the highest mountain in Europe, completing the final leg of his 737 Challenge. It was the last of the famous 7 summits conquered, he reached the peak at 11.53am local time, 08.53 UK time.

Richard, who is aiming to raise £1m in aid of Marie Curie Cancer Care spoke from the top of the summit of Elbrus stating; "It hasn't sunken in yet, I am sure when I am back home and I have got the team around me I guess it will sink in then. My energy levels went from a quarter of a tank to pretty much bone dry today, the final hour of the summit climb I had to dig pretty deep, my legs were quite tired and mentally it was quite tough".
Those that have been following the challenge over the rollercoaster 7 months have seen Richard face a host of dramas along the way, from discovering he had contracted frostbite after summiting Everest to cheating death on Denali after falling down a crevasse, to fuel strikes and delays in Antarctica. It's been the ultimate test of nerve and one of the most physically demanding challenges anyone could undertake, all played out in the most hostile conditions on the planet.
Richard added; "I had every confidence that I would be able to do it from day 1, however some of the hurdles and dramas that we have had over the last 7 months, I'd be lying if I said I haven't had my doubts. Physically my body has just about held up, I am not sure I have another mountain in me for a couple of months!".
Richard enters the history books today after living and breathing the challenge for over 2 years since he was forced to retire from professional rugby in May 2009. He used every penny of his career savings to fund his training, moved back home with his parents and devoted his life to preparing for the gruelling challenge and fundraising for Marie Curie Cancer Care.
For Richard the 737 Challenge has become more than he could have ever imagined; "I feel incredibly privileged to have experienced the last 7 months. To stand on the top of the world's highest mountains and see some of the most beautiful places on earth - I am just so grateful to so many people who have made the 737 Challenge possible for me, from the challenge team, to the sponsors to my parents to everyone who has made this a reality and to everyone for following and supporting my challenge".
Finally he added; "My friends, family and parents have been absolute rocks throughout this journey for me, from my forced retirement in rugby to this challenge, I know I have put everyone through the ringer, I am just grateful to have done it, hopefully now I'll get back in one piece safe and sound and be able to share it with everyone".
From the depths of despair to standing on top of the world, to inspiring others to help make a difference to people's lives affected by cancer. Today Richard Parks made history and proved that the horizon is only the limit of our sight.
PLEASE DONATE TODAY AND HELP RICHARD RAISE FUNDS IN AID OF MARIE CURIE CANCER CARE. CLICK BELOW TO MAKE YOUR DONATION VIA JUST GIVING.
DONATE NOW AND HELP RICHARD RAISE FUNDS IN AID OF MARIE CURIE CANCER CARE