Richard Parks summits Denali!
30th June 2011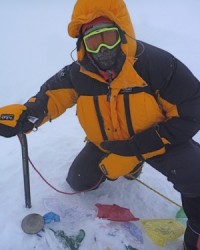 Richard Parks summited North America's highest mountain – Denali, also known as Mount McKinley today at 8.08am UK time and 11.08pm, Wednesday 29th June 2011 Alaskan/local time.
He has now completed an amazing 8 legs of his world first 737 Challenge and has just one more mountain to conquer to make history as the first ever person to climb the continental summits and stand on the North and South Poles in the same calendar year.
Richard summited Denali alongside climbing partner Matt Parkes (known as the other Parksy) after a gruelling 10 and a half hour summit climb.
Richard called in from the top of North America's highest mountain stating; "What an epic and brutal 9 days it's been. As far as summit climbs go its been really tough, we have pretty much broken trail all day and we are both shattered now but what an amazing feeling, especially after the last couple of weeks with the issues of my toe and then obviously the crevasse fall the first day. To come through it all is a fantastic feeling and a massive relief as well".
He added; "To everyone that has been following my challenge and certainly following the last couple of weeks of drama, thank you so much, all the messages of support really mean the world to me and please if you get the opportunity visit the website 737challenge.com please make a donation and help me raise funds for Marie Curie Cancer Care, any penny you can give really can make a difference, thank you guys".
Richard has now conquered The South Pole, Antarctica's highest mountain - Mount Vinson, South America's Aconcagua, Africa's Kilimanjaro, Australasia's Carstensz Pyramid, The North Pole, the highest mountain in the world - Mount Everest and now North America's Denali…all in just over 6 months.
Pic: Richard on the summit of Denali in May 2010 during training for the 737 Challenge, now he has summited again!
Listen to Richard's interview from the summit of Denali