Richard Parks summits Carstensz Pyramid, leg 5 completed!
15th March 2011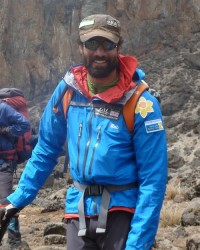 Richard Parks has passed the half way point in his world first 737 Challenge successfully summiting Carstensz Pyramid, the highest mountain in Australasia and the 5th leg of his 9 leg world first expedition.
He reached the summit of the 4,884m/16,023ft mountain at 8.28am local time on Wednesday 16th March, 11.28pm on Tuesday 15th March UK time, completing his trek and climb in 7 days.
Parks' quest to become the first person to climb the 7 continental summits and reach all 3 poles in 7 months continues on track.
Carstensz Pyramid was always going to be a tough leg of the challenge. Rising from the dense tropical jungle of West Papua in Indonesia, Carstensz is the most elusive, mysterious and adventurous of the 7 Summits and has represented an arduous physical and mental test for Richard. He stated from the summit; "It took us just under 7 hours of pretty tough technical climbing to summit today. Conditions were good except we had heavy snow on the summit ridge so we had to dig some of the fixed lines out. I am pretty shattered, it's genuinely been a really tough trip but an amazing experience and I am really pleased to get the 5th leg under my belt".
Despite having the lowest summit altitude, Carstensz is the most technically challenging of the 7 Summits and involves some difficult scrambling, rock climbing and abseiling over many parts of the mountain. The unpredictable trek through the jungle to base camp has also seen Richard trek through rivers, mud and torrential rain whilst dealing with extreme humidity. The day before summit day, Richard and his team had to abort their original summit attempt due to bad weather, this leg of the 737 Challenge has been filled with many ups and downs, but once again Richard has succeeded in his quest to reach the summit.
During his week long trek and climb there were also fears that the Japanese Tsunami might hit West Papua and cause delays to Richard's challenge, however the island remained unaffected, a sigh of relief breathed by the Papuan people in what has been a tragic week for the less fortunate people affected by the earthquake and Tsunami in Japan.
Richard finally added; "The people of West Papua and this Island are just awesome. It has been an experience I shall never forget and has been really special".
Richard has now successfully completed The South Pole, Mount Vinson in Antarctica, Aconcagua in South America, Africa's Kilimanjaro and now Australasia's Carstensz Pyramid. Next up is the North Pole.
Richard's 737 Challenge is raising funds in aid of Marie Curie Cancer Care, please donate if you can and help Richard in his quest to raise 1 million pounds for this amazing cancer charity.
Make a donation and help Richard raise funds for Marie Curie Cancer Care.