Richard Parks attempts the dangerous final leg - Mount Elbrus
9th July 2011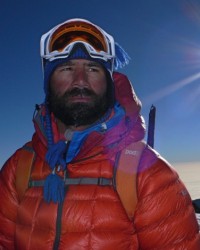 209 days ago Richard Parks left Cardiff attempting to make history and raise £1m in aid of Marie Curie Cancer Care. The former Wales rugby international, turned mountaineer has just one more mountain left to climb to complete his world first.
Mount Elbrus, the highest point in the Russian Caucasus and Europe stands between Richard becoming the first ever person to stand on the 7 highest summits on each of the world's continents and all 3 poles in the same calendar year. In fact, he is on course to complete his challenge in a record setting 7 months.
189 days ago Richard was stood on the South Pole having completed the first leg of his 7-month race looking ahead to 7 gruelling months of climbing, trekking and skiing and to the dangers and unknowns of some the most hostile places on the planet.
This week he arrived home from Alaska for one day, enough time to wash some kit and re pack before jetting off to Russia.
Interview requests are flooding in and excitement building as Richard stands on the brink of achieving this incredible world first, but he remains as focused and steadfast about how he approaches climbing this last mountain, he stated; "Although the finish line is in sight, I'm fully in the mindset we haven't finished. It would be naive and irresponsible of me to switch off now".
THE DANGERS OF ELBRUS
He's faced many dangers and obstacles throughout the 7 months and Mother Nature has thrown everything at the brave Brit. From climbing brutal Denali in extreme pain with frostbite to falling down crevasses and pressure ridges, to endless days wading through waist high rivers and knee-deep swamps, and to climbing on the icy knife edge summit ridge of Mount Everest…there's been plenty of dangers and dramas, twists and turns. Now Mount Elbrus, presents another.
The seemingly less difficult mountain on paper presents further obstacles to overcome which Richard is all to aware of; "I am very excited about visiting Russia, I have never been before but I am more than apprehensive about the political instability in the region I am entering".
As Richard began his journey to Elbrus from the UK, the president of the Russian Olympic Committee Alexander Zhukov announced that the Olympic torch will travel up Elbrus in 2014 as well as orbiting it in to space. Russia are clearly proud of owning the highest mountain in Europe. However, right now, half of the mountain remains closed due to terrorist activity.
In February the south side of the mountain shut after multiple terrorist attacks in one weekend killing three people. Since then the southern route, which would be the normal route climbed on Elbrus which goes through the Baksan valley remains closed and extremely volatile. In June militants and one member of Russia's security forces were killed in a gunfight near the North Caucasus' most popular ski resort, just one example of a spate of killings and instability. Richard will attempt the summit using a different route.
He added; "As with every leg I could do with a little lady luck, however there are real challenges just getting to the bottom of the mountain on this occasion".
Richard has even had to shave off his beloved beard to ensure he remains as indiscreet as possible; "Although I have become quite attached to the beard and wanted to keep it, in the interests of keeping a low profile on the mountain and not wanting to draw any attention to myself I have had to shave it off".
Despite the unpredictability that lies ahead, Richard is looking forward to climbing the highest peak in Europe; "It's awesome to be teaming up with Dai Camera again who is coming along and Matt Parkes joins me again for the climb, Team Parksy is back on the road again!".
SHOW YOUR SUPPORT, RICHARD NEEDS YOUR HELP
Richard has 22 days to complete his history making 7 month race. Show your support as Richard begins his quest to climb the 7th summit and 9th leg of his challenge by donating anything you can to help him raise funds in aid of Marie Curie Cancer Care.
You can donate via Just Giving, its quick and easy, just CLICK BELOW to donate. He needs your help now, please do anything you can.
DONATE NOW VIA JUST GIVING