Richard Parks and Steve Williams summit Mount Everest!
25th May 2011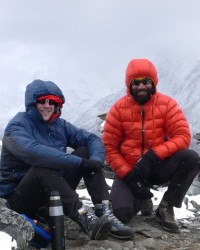 Former Wales international rugby player Richard Parks and double Olympic gold medallist rower Steve Williams have reached the summit of the world's highest mountain - Mount Everest. Richard summited at 7.42am local time/2.57am UK time and Steve summited at 10.10am local time/5.25am UK time today.
For Richard, reaching the roof of the world marks his 5th summit and 3rd pole of his record-breaking 7 month race to climb the 7 highest summits of the world and stand on all 3 poles. He also aims to raise £1million pounds in aid of Marie Curie Cancer Care.
Speaking from the summit of Everest, an emotional Richard who broke down in tears said; "It's hard to really put this in to words, it's just the most amazing feeling. There's just the most amazing mountains, clouds as far as the eye can see, one way's Nepal, the other Tibet. So many times I didn't think I was going to make it. You know we have been blessed, we sat yesterday in really high winds in camp 4, our tents absolutely rattling, I was really worried that we might not get the shot, we might not get the opportunity. Our Sherpas Sirdar and Mingma have been absolutely amazing and we just held our nerve. It's brutally cold, the winds are pretty low and there is not a cloud in the sky on the summit, it is just amazing".
"The support has been amazing, I'd be lying if I said that I was bullet proof confident, I have had so many moments of doubt, the messages of support have really kept me going. Especially as we are all doing it for an amazing cause, Marie Curie Cancer Care".
Finally, overcome with emotion, Richard added; "I love you all, I gotta go I am making a fool of myself now (still crying). It's only half the job, we have to get down now. I want to say a big thank you to everyone back home who have made this possible for me. All the challenge team and the summit team today".
YOU CAN LISTEN TO THE INTERVIEW WITH RICHARD FROM THE SUMMIT OF EVEREST BY CLICKING BELOW.
Richard summited alongside other members of the Jagged Globe climbing team including Adam, Mark and Sherpas Sirdar and Mingma. Steve summited around 2 and half hours later, also with another of Jagged Globe's awesome Sherpas, Passang. Steve fulfilled a lifelong dream to climb the world's highest mountain. An interview with the former rower will be recorded after he returns to camp 4 later today.
The successful summit of Everest at 8,850m/29,036ft high now means that Richard has stood on all 3 poles this year (Everest is considered the world's 3rd pole). He had arrived in the Himalayas having already skied the last degree to both the North and South Poles during his epic 7 month expedition. The Brit has just 2 more mountains to climb to make history by becoming the first ever person to stand on all 7 summits and 3 poles in the same calendar year.
Both Richard and Steve arrived on top of "Chomolungma" - it's Tibetan name, which means "mother goddess", just 44 days after they were stood on the Geographic North Pole. They had to abort their summit push just 24 hours earlier due to high winds and are one of the last teams on the mountain to reach the summit.
The team summited in cold conditions but with perfect visibility on the summit and relatively low winds. There was snowfall during the summit climb, which made progress on some of the tracks a little slow. Despite making it to the top the hard work isn't over yet. Both must now descend safely to Camp 4 at the South Col, still incredibly high at 7950m and some hours away.
Richard and Steve join an elite list of Britons who have conquered the word's highest peak, which was named after Colonel Sir George Everest, a Welsh surveyor, geographer and Surveyor-General of India from 1830 to 1843. Until the end of the 2010 season, just 227 different Brits (UK) had summited Everest.
Richard was forced to retire from professional rugby with a shoulder injury almost 2 years ago to the day. It was May 26th 2009, exactly 2 years ago tomorrow when his life changed forever. Never could the former flanker have dreamt that 2 years later he would be standing on Mount Everest having conquered 5 of the world's highest mountains and all 3 of the globe's poles.
Following his descent of Everest, he will trek back to Lukla, expecting to arrive there around 31st May. Richard will then travel on to Alaska to climb Denali, the highest summit in North America before finishing his record-breaking challenge climbing Mount Elbrus in Russia, the highest mountain in Europe.
The 737 Challenge continues!
Pictures from the summit will be available once Richard and Steve have made their descent.
LISTEN TO RICHARD'S INTERVIEW FROM THE SUMMIT OF EVEREST