Richard Parks and Steve Williams reach the North Pole
12th April 2011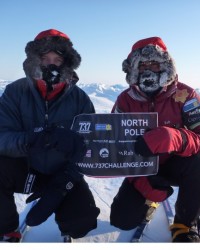 Former Wales and barbarian flanker Richard Parks and 2 times Olympic gold medallist rower Steve Williams have successfully reached the Geographic North Pole, meaning Richard Parks has now completed an amazing 6 legs of his 9-leg, world first 737 Challenge.
Richard, who began his 7 summits, 3 poles in 7 months race exactly 4 months ago today, has now travelled the last degree to the South Pole and conquered 4 of the famous 7 summits – the highest mountain on each of the world's continents. He's climbed Mount Vinson, Aconcagua, Mount Kilimanjaro, Carstensz Pyramid, and now travelled the last degree to the Geographic North Pole, all in the quest to raise funds in aid of Marie Curie Cancer Care.
Richard and Steve now head straight to Kathmandu in Nepal and on to Mount Everest Base Camp where they will start their epic climb to summit the highest mountain in the world and leg 7 of the 737 Challenge.
After 6 days of skiing across pressure ridges and crossing open leads, pulling pulks weighing around 50kgs, Richard and Steve reached the Geographic North Pole yesterday at 2.20pm UK time in conditions skirting -40c.
Richard and Steve's team had been making good progress for the past 6 days under the guidance of one of the best polar travellers in the world, Alain Hubert and they started the day around 11km from the pole, Richard stated; "When we got to camp on Sunday night we were about 8km from the pole but when we woke up yesterday morning we were about 11km from the pole. Conditions were pretty good with decent visibility but it was extremely cold, we had an ambient temperature of -27c and with windchill it was around -40c but moral was high as we had made good progress".
FINDING THE POLE
Richard added; "When we got close to the pole we were using the GPS constantly, the ice is moving around above the pole so we were almost making 90 degree adjustments, sometimes coming back on ourselves to actually get over the pole on the position, so if you had been looking at it from the outside maybe for the last half an hour to an hour of reaching the pole, it was a bit like the Benny Hill show! We were going back on ourselves, left and right, to get exactly on the North Pole. It was a very different experience to arriving at the South Pole but amazing none the less".
"I say this with every leg, but it really is a privilege to have been up in the Arctic and been up on the ice. So very few people get the opportunity to arrive at the North Pole on foot so it was an amazing feeling but it didn't really sink in until this morning when we woke up in the tent. I got goose pimples and shivers when I actually thought about standing on top of the world".
"When we got there we had just a few minutes on the pole, unfortunately I couldn't call yesterday as I left my phone in my outer jacket pocket because I thought we would arrive sooner than we did but by the time we got there my phone battery had gone flat because of the cold".
Richard's teammate, Steve Williams has certainly lifted Richard after a savage Carstensz leg. Having the former Olympic rower as his partner has been just the boost he needed; "I was pretty jaded coming into this off the back of Carstensz and it has been really great having Steve on board, it really lifted my spirits, this was always one of the toughest legs of the challenge and it didn't disappoint, so to have him there was awesome".
Steve Williams OBE, who won Olympic gold medals in the men's coxless four in Athens and Beijing and has joined Richard for the North Pole and Everest legs of the 737 Challenge was also thrilled to make it to the North Pole, he stated; "It was a great feeling for that moment. It was very strange though, it's a finish line but then it just disappears, it's there for one moment. There were just 6 of us that shared the North Pole for that moment and then it was gone, so in a way it makes it even more special, it was a great feeling".
It wasn't long though before the celebrations stopped and thoughts were turned to the next challenge, he added; "As we stood there we were thinking okay we are probably about 4 feet above sea level here and in a week we will be in Kathmandu and a week later at Everest base camp at 5 and a half thousands metres, there was always that in the back of my mind. It has been tough but it will get even tougher so for now it's just nice to get a couple of days of relative rest before heading off to Everest".
DRAMA ALONG THE WAY
There were a few close shaves over the week, which could have ended in catastrophe for the team. Richard fell and his pulk landed on his head, he recalled; "I slipped coming down off a pressure ridge, I fell and my pulk weighing 50kgs landed on my head and I was dazed for a few minutes but luckily was okay".
Steve also had a fall and the British duo nearly found themselves in danger after crossing a pressure ridge, Richard said; "We were caught very close to 2 ice flows moving towards each other, half the team had crossed the pressure ridge and the other half were on the other side and you could hear the ice groaning underneath you and within the space of a few minutes that pressure ridge had sunken in to the water and had been replaced by a pool of water".
Steve said; "If it had been one minute earlier when we were on top, I can't see how we would have come out of it, it's not being melodramatic to say if we had been in the middle of it, we wouldn't have stood a chance. I could see the water bubbling, multi ton blocks of ice moving around like they were matchsticks. It was like a big Jenga falling down in slow motion and there was about 100 metres of it just changing in front of our eyes, one plateau shifting upwards, one going down, it was like something out of a movie to watch and then all of a sudden we realised that what we were standing on was about to disappear, luckily our guide stayed calm, we kept calm, but it is a phenomenal sight of the pressure that is out there, what nature can do, it was awe inspiring".
Finally, Richard added; "I am relieved to have successfully completed the leg without anything untoward happening and it's on to Everest now. For me, the North Pole really is one of the most hostile places on the planet. It didn't get above -20c all week. It is a challenging environment and to survive and co exist in the conditions has been a real challenge. As much as it was a great experience I am really happy to be back in Longyearbyen and I am looking forward to a few days rest!".
Richard and Steve travelled back to the Barneo Ice Camp by helicopter and flew back to Longyearbyen in Svalbard today. They will now fly on to Kathmandu in Nepal.
If you would like to make a donation to the 737 Challenge and help Richard in his quest to raise 1 million pounds in aid of Marie Curie Cancer Care, please click below.
Make a donation to the 737 Challenge now and help Richard raise funds for Marie Curie Cancer Care