Richard and Janet summit Kilimanjaro completing leg 4 of the 737 Challenge
3rd March 2011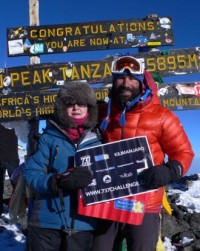 Richard Parks successfully reached the summit of Africa's highest mountain, Mount Kilimanjaro on Sunday 27th February 2011 completing leg 4 of his incredible world first 737 Challenge.

He summited at 7.57am local time, 4.57am UK time and was joined by Marie Curie nurse Janet Suart who also made it to the top of Uhuru Peak.
 

For the former Wales and Barbarian rugby player turned mountaineer, summiting Kilimanjaro was very special alongside Marie Curie Nurse Janet and many friends, followers and family who joined him on the climb, he stated; "It was awesome to see everyone summit, it was a long climb, and the team are pretty battered. To be fair it was tougher than I expected, but also far more beautiful".


Richard's race against the clock to climb the world's 7 Summits, which are the highest mountain on each of the world's continents, and venture to The North and South Poles, all in 7 months is now almost at the halfway point.
Richard has 5 more legs to complete, next up is the technical and tricky ascent of Carstensz Pyramid, the highest summit in Oceania, which rises up from the dense tropical jungle of West Papua in Indonesia.
 

Richard's 737 Challenge aims to raise £1 million pounds for Marie Curie Cancer Care and you can help him raise funds for this fantastic charity, just visit our donate page to make your contribution.
 

The 737 Challenge has seen Richard conquer the South Pole, climb Mount Vinson in Antarctica, Aconcagua in South America and now Kilimanjaro in Africa.
 
The world first 737 Challenge continues!

DONATE TO RICHARD'S CHALLENGE
LISTEN TO RICHARD'S REACTION FROM SUMMIT OF KILIMANJARO