Parks' frostbite puts challenge in jeopardy & we reveal summit pictures
27th May 2011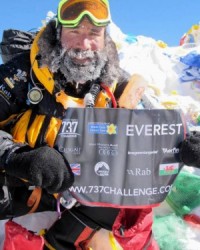 Richard Parks' world first race to climb the 7 highest summits in the world and conquer the North and South Poles has been put in to jeopardy shortly after completing the most dangerous and gruelling leg of the challenge so far – Mount Everest.
Richard summited Everest on Wednesday morning at 2.57am UK time and has spent yesterday and today making the exhausting climb down to base camp after his epic summit success. However, bad news struck today when Richard discovered he has frostbite on his right big toe, and there are severe doubts as to whether Richard will be able to move on to the next leg in Alaska to climb Denali.
Richard stated; "The nature of this challenge and indeed mountaineering and sport in general is it's a bit like snakes and ladders. I had no indication I had frostbite on summit day, in fact I thought I'd bruised my toenail on the front of my boot on the down climb, but on arriving back in base camp and visiting the medical centre, I've just found out that I have frostbite in my right big toe".
The news is a huge blow to Richard and his race against the clock, frostbite was a risk he was all to aware of and had prepared for meticulously; "I did everything right and didn't make any mistakes, it's a case of circulation and hypoxia at 8950m. Nevertheless it's serious, at the moment I'm being helicoptered out tomorrow to get back to sea level as soon as possible. Denali is 50:50 as is losing my toe. Jagged Globe, my expedition partner have ensured I'm being looked after by the very best high altitude medics and I will do everything I can to get through it. I'm shell shocked, gutted and angry".
One of the directors from expedition partner Jagged Globe, Tom Briggs stated; "Richard is getting the very best advice from the top vascular surgeons and experts in cold injuries in the UK as we speak. We will be able to update further in the following hours".
The shock news follows two days of celebrations back home in the UK and Wales after Parks summited his 5th summit and 3rd pole of the 737 Challenge. 737 Challenge was even trending on Twitter at one point on Wednesday such was the huge public reaction to his amazing summit.
Richard added; "The summit push couldn't have gone more to plan, although one of the toughest days of my life, it was a genuinely enjoyable climb across the razor sharp balcony ridge, up the mixed climbing of the large rock section, the summit ridge, Hillary step and finally the feeling of stepping onto the summit was out of this world".
The Brit has just 2 more mountains to climb to make history by becoming the first ever person to stand on all 7 summits and 3 poles in the same calendar year.
So far Richard has conquered The South Pole, Mount Vinson in Antarctica, Aconcagua - the highest summit in South America, Africa's Kilimanjaro, Australasia's highest peak Carstensz Pyramid and The North Pole, where he was joined by double Olympic champion rower Steve Williams. From the North Pole he and Steve flew straight to Kathmandu and began the trek in to Everest. Richard and Steve summited Everest on Wednesday morning and Richard was due to travel straight on to Alaska to climb Denali, the highest mountain in North America. From there he would move on to his final leg of the 9-leg race to climb the highest summit in Europe, Russia's Mount Elbrus.
Richard, his family and the 737 Challenge team now face an anxious wait for him to be flown by helicopter back to Kathmandu at sea level to see if his toe can recover and the challenge can continue.
Richard's record breaking challenge is aiming to raise £1million pounds for Marie Curie Cancer, right now he needs your help to get him there, please click below to make a donation and help make a difference to people's lives.
Donate to Rich's challenge in aid of Marie Curie Cancer Care
View Richard's summit pictures