Marie Curie Nurse joins 737 Challenge to climb Kilimanjaro
18th February 2011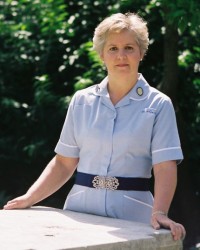 54-year-old Marie Curie Nurse Janet Suart from Barry in the Vale of Glamorgan will join former Welsh International rugby player Richard Parks tomorrow as he sets off to climb Africa's highest summit, Kilimanjaro.
Keen walker and Marie Curie Nurse of 13 years Janet is the first of a number of inspirational people set to join Richard on his world first 737 Challenge. Sir Ranulph Fiennes and Steve Williams are also expected to join him on his journey later in the year.
The 737 Challenge is raising funds in aid of Marie Curie Cancer Care so that Marie Curie Nurses like Janet can provide care for more people with terminal cancer and other illnesses.
Richard Parks said: "I am honoured to have some of our nations Great Britons accompany me on several stages of my 7 month race. Over the past few years I have seen and heard the difference that Marie Curie Cancer Care makes to the lives of terminally ill people and their families. For me, Marie Curie Nurse Janet Suart deserves a place as one of our Great Brits and represents this truly great cause. I know that having Janet join me on the next leg of my journey will give the team a boost – reminding us all of the importance of the funds we are striving to raise."
Janet Suart who works at the Marie Curie Hospice, Penarth comments:"When Richard first came and asked me would I do Kilimanjaro, I thought I don't know! But he is so passionate about what he is doing you can't help but want to be involved. I really think it is important people understand what the challenge is all about. The money we raise is helping terminally ill people have a choice of where they want to be at the end of their lives. It's easy to say that your donation really will make a difference but it honestly does, and I see the rewards of that day in day out."
Read Janet Suart's special Q&A ahead of joining Richard for Leg 4 of the 737 Challenge
Follow Richard and Janet's progress on Kili on Richard's daily updates
Watch video of Richard visiting the Marie Curie Hospice in Penarth before setting off on his challenge