Denali – the first dramatic week
28th June 2011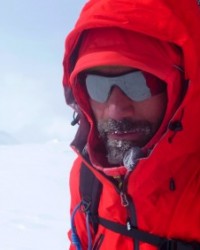 Last week Richard fell down a crevasse resulting in a dramatic rescue from a 7-metre cavern followed by a gruelling 6 hour climb to reach the first camp at 7,500ft. It was an epic first day on Denali and following some satellite phone issues we have at last been able to speak to Richard exclusively about the events which unfolded on Alaska's highest and most brutal of mountains.
We also spoke to Richard about his summit strategy, got an update on his toe and his week with climbing partner Matt Parkes – the other Parksy and their cook-offs on the mountain!
See below for all the interviews.
FALLING IN TO A CREVASSE
Richard described his first day on Denali as "The worst first day you could have possibly dreamt of".
He stated; "Moving as a team of 2 was always going to be challenging, especially with conditions on the lower glacier being horrendous. We left base camp at midnight (when it as it's coldest and most stable) and about 2 hours in to the climb I dropped through a crevasse up to my waist on the track. Whilst I was trying to climb out of it the entire track just collapsed all around me and I fell maybe 6-7 metres down in to a cavern of what was a huge crevasse".
"In a matter of seconds we were in a really critical situation. I was really lucky that my fall was broken, I landed on my rucksack on my back, on a ledge in the crevasse and my sled fell lower beneath me. It was a shock really and it took me a few minutes to get my bearings. To my left it was just black and I could see the crevasses was the size of a cinema".
Luckily a rope team who were also on the mountain came along and helped Richard's climbing partner Matt pull Richard to safety but even that was not straightforward, Richard added; "One of the guys who was part of the team that helped also fell in to the crevasse up to his waist so Matt had to not only anchor me, he had to help the other guy out too. It took nearly 5-7 people to set up a new anchor and pulley system to haul me out of the crevasse".
"I was down there about an hour and a half constantly being dripped on by melting ice above me, so I was soaking wet when I came out and close to becoming hypothermic really, I was conscious of my toe and my fingers and frostbite in general".
"Matt had to abseil back in to the crevasse to free my sled and pull my sled out as well…it was an hour and a half to 2 hour absolute epic! Then we were still 6 hours away from the first camp at 7,500ft and had to climb on. It was the longest 6 hours of my life".
THE TOE IS STILL RECOVERING
Richard said; "It is in pretty good condition considering, it doesn't look very good and is pretty painful and all the dead tissue and the nail is starting to fall off now but I am being really diligent about keeping it clean, sterile and warm. It's getting worse but it is good condition if that makes sense! I don't think I'll lose it on the mountain, It is what it is really and I am looking after it well".
CLIMBING DENALI & THE SUMMIT STRATEGY
"As much as she tried to end my challenge on the first day I still have a real soft spot for her (Denali/Mount McKinley), she is a really beautiful mountain and after the first day we were blessed with some beautiful views for the next few days".
"After the first day we had really good conditions and we got from base camp to camp 14,000ft in 4 days which is probably 4/5 days quicker than commercial teams but now conditions have deteriorated which has been good in some ways allowing us acclimatisation."
Winds have been reaching 50mph with 70mph gusts at 17,000ft camp and much snowfall has meant 2 days of rest at 14,000ft camp and digging out the tent each morning, however, a change in conditions has meant that Richard and his climbing partner Matt are now in a good position to attempt the summit;
"Today the weather cleared enough for us to climb to the top of the headwall to cache some gear, food and summit gear at 16,200ft. It was a really big marker for us, as now we are ready when conditions allow to make the move up to 17,000ft camp which is also called High camp and attempt the summit".
THE TWO PARKSY'S AND THE COOK-OFF!
"Me and Matt (Matt Parkes, my climbing partner) are getting on really well, I am winning the cook-off at the moment, ha! Actually to be fair it is probably neck and neck, it's like ready steady cook up here!! We have conversations where we call each other Parksy and I never get bored of it ever. It's like; "You alright Parksy? Yeah Parksy cool! Ha, I love it!"
Richard needs your help to reach his target of raising £1m in aid of Marie Curie Cancer Care, please donate now and help change the lives of people and families living with cancer and other terminal illnesses.
Pic: Rich on Denali in 2010 during training for the 737 Challenge.
Click here to listen to Richard's interview on falling in to a crevasse
Click here to listen to Richard's Denali summit strategy
Click here for an update on Richard's toe & the Parksy cook-off!
Follow Richard's daily updates
Make a donation and help Richard raise funds in aid of Marie Curie Cancer Care