Climbing "The Great One" - the toughest challenge yet
18th June 2011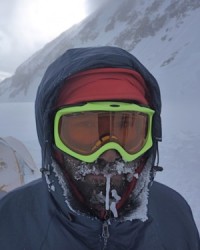 Richard Parks believes that climbing Denali, also known as Mount McKinley could possibly be his toughest leg of the 737 Challenge.
Not only will Richard have to brave the climb with a right big toe recovering from frostbite, he'll be carrying extremely heavy loads on one of the coldest and most unpredictable of the 7 summits.
The Athabaskan translation of Denali means "The Great One". The vicious vertical gain from base camp to the summit is greater than the vertical gain on Everest at 4,000m/13,123ft, and its remoteness requires climbers to be responsible for everything that will need for their time on the mountain; supplies of food, fuel, clothing and group equipment. This means Richard and Matt will be carrying loads of up to 65kg each, split between their expedition rucksack and pulling a sled similar to that used on the polar legs.
The heavy loads and ferocious weather make this one of the toughest mountains in the world with on average only 45% of climbers attempting the mountain successfully reaching the summit.
In May 2010, Richard set out to climb Denali as part of his expedition training for the 737 Challenge. He stated; "Climbing Denali was vital to my preparation. I always knew I would possibly be at my weakest mentally and physically for this leg of the challenge coming off Everest and having been in expedition mode for 6 months. When I climbed it last year the conditions on the mountain were the worst it had been for a long time due to a very cold winter and high winds scouring the upper mountain".
"We battled temperatures ranging from +28 to -31 degrees Celsius, I spent 6 days tent bound in a storm at 4,300m/14,000ft and had an epic 18 hour summit day in zero visibility and -45 windchill conditions. It was a tough day in the office! However, I was lucky to be part of a strong team and successfully reached the summit. I'm proud to be one of only 19% of climbers on the mountain to summit that May. As a test of my ability to perform in hostile environments it was a key point in my challenge preparation. Although I am more at home in these extreme environments now, I know that Matt (my climbing partner) and I are in for an equally challenging time and will need to work together to make it to the summit".
Denali undergoes long periods of clear skies and high winds, and these conditions are most often seen during early part of the climbing season (April and May). During this part of the climbing season around May high winds and clear skies scour the mountain's slopes clean of snow leaving behind solid blue ice testing the cramponing skills of even the most experienced climbers. During such weather, many climbers are lulled by the clear skies into going for the summit. However, these winds routinely exceed 100 mph and have been known to pick climbers up and throw them down the slopes.
Richard is hoping Denali may be a little kinder this time; "I could do with a some lady luck on this one from Mother Nature. To be fair throughout the challenge so far she has mostly been good to me, but just to keep me on my toes - excuse the pun! at other times she has thrown a spanner in the works causing delays! I am hoping we don't have to sit bad weather out again, that would be really bad for my toe. In some ways I am glad that my Denali climb last year was tough, at least I am well prepared and know what lies ahead for me...although part of me wishes I didn't!".
Leaving the attempt until later in the season means potentially a more unstable mountain, Richard added; "Most would assume that the relatively warmer weather at the tail end of the climbing season would be positive, however this warmer weather opens the giant crevasses in the Kahiltna Glacier - some house sized! and brings more unpredictable weather systems in. As we are only a 2 man team, both Matt and I will have to rely heavily on each other, and our decision making will need to be spot on."
Richard added; "Most assume Everest to be the toughest of the 7 summits and that these last two are just a formality, that couldn't be further from the truth. Denali is equally as dangerous and as tough as Everest. Irrespective of my toe, I'm prepared, confident and really looking forward to climbing with Matt."
Parks arrived in Anchorage today to begin the 8th leg of his world first 737 Challenge. Fatigued after so many back-to-back expeditions, he's been trying to capitalise on the enforced time at home by putting some weight back on and getting as much rest as possible. He added; "When I came home from Everest I weighed 83.4kg, actually that is about the same weight I was when I came off Denali last year. Since returning home, and in just over two weeks, I'm back up to 90.0kg now, that's not bad going but I still feel jaded and a little weak, never the less I'm ready to get back in the game! I'm really looking forward to climbing Denali again, although brutal, she's a very beautiful mountain."
Richard aims to raise £1million in aid of Marie Curie Cancer Care and last week even encouraged followers on Facebook and Twitter to raise extra cash by sponsoring him to shave off his ever-growing beard. He has decided to keep the beard until he raises more funds; "I couldn't bring myself to do it!" he said. "I have grown pretty attached to it now and wanted to hold out to get more bids!".
Pic: Rich on Denali in May 2010
Make a donation via just giving