Recent News
---
Register for News Updates
The Greenland Expedition - Polar Training
6th May 2010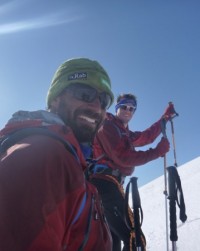 Richard has just returned from a Polar training expedition in Greenland. He, and Steve Williams OBE, were preparing for The North Pole leg of the Challenge. Specifically, getting to grips with movement over the changeable and hostile sea ice. The other major focus was their technical skills and 'personal operating systems' as The North Pole leg, above all, poses the highest risk of a cold injury. Richard has a mammoth learning curve to climb and not a lot of time to do it in.
Richard said, "The Geographic North Pole / Everest is possibly the crux of the challenge. We will be one of the first teams to attempt to reach The North Pole next year, when the temperatures will be incredibly cold and the risk of frostbite is high. We won't have the luxury of information on conditions fed back from teams in front of us. It's essential that we're fast, efficient and very disciplined because we head to The Pole when normally we should be heading to Everest, meaning every day we're fighting the sea ice we're missing crucial acclimatization at altitude. The timings are going to be very tight!"
Despite almost losing one of the other training team, when he fell through the ice, and having their food supplies plundered by an Arctic Fox, it was a highly successful expedition.