Richard Parks to return to Antarctica for solo expedition
2nd July 2012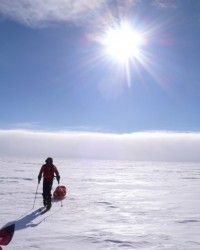 Richard Parks has revealed that he will return to Antarctica towards the end of this year to ski to the Geographic South Pole.
The 34-year-old who last year became the first person to climb the highest mountain on each of the world's 7 continents & stand on all 3 poles within 7 months has revealed plans for this next expedition.
Richard plans to ski 1,137km solo, unsupported and unaided from Hercules Inlet, a recognised start point on the coast of Antarctica to the Geographic South Pole – a quest he expects to take between four and five weeks.
The former Wales rugby star turned adventurer and mountaineer stated that the trip would help him prepare for another world-first expedition he is planning for 2013/2014.
Richard has already skied the last degree, 111km to the South Pole in -35°C temperatures on the first leg of his epic 737 Challenge in December 2010, and is excited to return to the continent, he stated; "Antarctica has a special place in my heart from when I went there for the first leg of my challenge. It touched me and has always stayed with me since. It is a truly incredible place."
Richard left Cardiff Bay to begin his 737 Challenge a century after Captain Robert Scott's Terra Nova expedition left the Welsh capital for the South Pole and last year marked a centenary since humans first reached the Pole, with a team of Norwegians led by Roald Amundsen arriving on December 14, 1911.
Scott's five-man team arrived the following month but all five perished on the Ross Ice Shelf during their return journey.
Richard added; "Doing the challenge solo means I'm on my own. Unsupported means there are no food drops or external support. Unaided means not using kites or any vehicles or assistance, just travelling by your own means."
Richard will ski from the Hercules Inlet, on the southwest margin of the Ronne Ice Shelf, to the geographic South Pole. "The opportunity to go back to Antarctica and ski from the geographic coast to the Pole will be challenging. It's one of the toughest things I could have done, especially solo, but I see it as a real privilege to have that opportunity."
The expedition forms part of Richard's preparation for his next proposed world-first adventure, which he has earmarked to take place in 2014.
Richard recently returned to Denali, the highest mountain in North America, to test newly developed clothing and equipment ahead of this expedition.