Fundraisers take on Tandem challenge for Richard's 737 Challenge
6th July 2012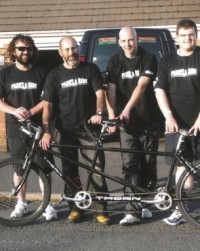 Stalwart 737 Challenge fundraisers Howard Lewis and Wayne Morris will take on a 48 mile cycle challenge on tandem bicycles tomorrow riding from Mumbles Pier to Cardiff Bay to help Richard raise funds in aid of Marie Curie Cancer Care.
Howard and Wayne have already raised thousands for Richard Parks' 737 Challenge, which is raising funds in aid of Marie Curie and tomorrow they will be joined by Howard's son Gareth Lewis and Gareth Evans for their "Parks & Ride" event.
The quartet, all from Bridgend will leave Mumbles Pier tomorrow where the Lord Mayor and Lady Mayoress of Swansea will attend the start of their Parks & Ride event. They kick things off at 9am and will cycle to Cardiff Bay via Baglan, Pyle, Bridgend, Stalling Down and Bonvilston before arriving at Cardiff Bay where Richard Parks will join them for the conclusion of their journey. The tandem team will also be supported by 8 single cyclists, all friends and colleagues who have offered their support.
Howard Lewis stated; "It is a great pleasure for us to take part in another Challenge for Richard's charity, we know how committed and loyal Richard has been to his fundraising in the last year, and for us, it could be our last big effort. We are very supportive of his charity, and are all ready and excited about the day and hope to raise a large sum of money in aid of Marie Curie Cancer Care.
Richard Parks added; "Howard Lewis has been absolutely amazing throughout my challenge, he never stops raising funds or coming up with ideas to fundraise and both he and Wayne have been awesome over the past few years in helping me raise funds in aid of Marie Curie. I really wanted to jump on a tandem myself and join them but I have other commitments in the morning, however, I'll be heading down to Cardiff Bay later in the afternoon to see the guys arriving. It would be fantastic if people could cheer them along the route and show them some support".