Richard to compete for Wales in Sport Relief's First Nation Home
19th January 2012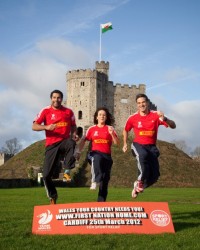 Richard will join Welsh sports stars and personalities to compete in First Nation Home - an 8 day Challenge in March which will see four teams of sports people and celebrities representing England, Ireland, Scotland and Wales race over 1,000 miles around the UK and Ireland in the biggest ever Sport Relief Challenge.
In March the teams will start simultaneously in their home cities of Cardiff, Dublin, Edinburgh and London as they run, row, cycle and sail their way clockwise around the UK and Ireland from the 10th to the 17th of March 2012.
Richard will be competing for Wales alongside rugby legend Gareth Thomas, boxing great Joe Calzaghe, athletics star Iwan Thomas, former Wales and Lions player Dafydd James, ITV Wales presenter Frances Donovan, Sailing World Champion Edward Wright, Mountain Biker Matthew Page and captain and TV presenter Gethin Jones.
They will be up against England, Scotland and Ireland and likes of Josh Lewsey, Phil Vickery, Dame Ellen MacArthur, Sonia O'Sullivan, Thom Evans and Scott Hastings for the ultimate battle of the national pride.
For eight days they will push their bodies to the extreme as they raise a stack of money for Sport Relief. Every turn of the pedal, every stroke of the oar, will carry the hopes of a nation.
You'll watch this challenge unfold from your sofa, gently stretching and limbering up as you prepare for Sunday the 25th of March when you can join your celebrity team mates. Side-by-side you'll run the final 6 miles of this journey with them, as fast as you can for your country and a better world. Your efforts will ultimately determine who wins the challenge and is crowned the First Nation Home!
Richard was thrilled to be asked to represent "Team Wales" and is looking forward to another challenge, he said; "It'll be loads of fun and I'm really excited and proud to be part of Team Wales. Although I am still focused to raise funds in aid of Marie Curie Cancer Care through my 737 Challenge, it's also great to be able to help another fantastic cause in Sport Relief".
"For me it's about getting involved and doing something active for a great cause, so I am amped to be a part of Team Wales in the DHL First Nation Home Competition. The banter has started already between the other teams, as although it's for a great cause we all want to win! There are a lot of incredible sportsmen and women involved so we'll all have to bring our A game!"
To support Wales, follow the teams and join in the fun visit; www.firstnationhome.com
For First Nations Home press information, contact Cameron Mather on 07968717397.
Visit the First Nation Home website and support your team!