British Duo meet Prince Harry before skiing to the North Pole
4th April 2011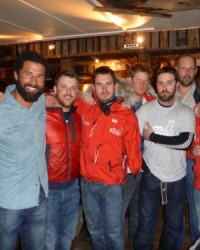 Former Wales and Barbarian flanker turned mountaineer Richard Parks and 2-times Olympic Gold Medallist rower Steve Williams met Prince Harry this weekend ahead of their 111km ski of the last degree to the Geographic North Pole and the 6th leg of Richard Parks' incredible world first 737 Challenge.
Richard and Steve have been preparing to start their punishing North Pole leg for a number of days but like Prince Harry and the group of wounded servicemen aiming to walk to the North Pole, they have been delayed whilst the Barneo Ice camp – the hub for all expeditions is built. The building of the runway at the camp which all teams will fly in to was delayed due to heavy gales.
Richard Parks is aiming to become the first person to stand on the continental summits and all 3 poles in the same calendar year, and set a new benchmark in the climbing of the 7 Summits. His challenge is raising funds in aid of Marie Curie Cancer Care.
Having started the 737 Challenge in December 2010, Richard has already successfully skied the last degree to The South Pole and conquered 4 of the famous 7 summits - Mount Vinson in Antarctica, Aconcagua in South America, Africa's Kilimanjaro and Australasia's Carstensz Pyramid.
Steve Williams OBE has joined Richard for two gruelling legs of his challenge; skiing the last degree to the Geographical North Pole and Mount Everest back to back.
During the last few days Richard and Steve have chatted to Ben Fogle and also swapped stories with the group of wounded servicemen and Prince Harry about their forthcoming expeditions.
"They were really cool guys" stated Richard. "It was awesome to just chat about our expeditions and also meet fellow Welshman Sergeant Stephen Young who is one of the wounded soldiers".
The delays have also given Richard and Steve a chance to prepare and test their gear, tighten their systems in the extreme cold and make last minute tweaks to supplies and food for the expedition. "It's been great be back in Steve's company again" added Richard. "Leading in to this leg I was starting to feel the effects and a little jaded and run down so it's been a real boost to my morale to be joined by Steve and we are bouncing ideas, systems and energy off each other and it is really cool to have him here with me".
Richard and Steve plan to fly in to the Barneo Ice Camp tomorrow. They can no longer afford any more delays to the start of their expedition as every extra day they spend on the North Pole's sea ice, they are losing vital acclimatisation time for Mount Everest, something that 737 Challenge logistical expert Simon Lowe, from Jagged Globe is all to aware of, he said; "This is where it's going to get seriously hard, going to the North Pole, travelling over sea ice at -40 on a good day, just as the sun is up is going to be immensely tough. The constant worry of the sea being inches below their feet is a big psychological challenge for Richard and Steve and it's going to be colder as the dawn has only just risen in the article circle. To then go straight from there to Everest two weeks later than ideally we would plan, means two weeks less acclimatisation, so the pressure is on. They can not afford to come off the pole with any frost injury so they will have to be very careful of how they look after themselves".
Richard is aiming to raise £1 million pounds in aid of Marie Curie Cancer Care. Right now he needs your support to help him get there. Please donate any funds you can, donating is safe, quick and easy. Click below to make a donation and help make a difference to people's lives.
Donate to the 737 Challenge
Read the latest updates from Richard and Steve's North Pole leg