Richard Parks shortlisted for celebrity fundraiser of the year
14th February 2012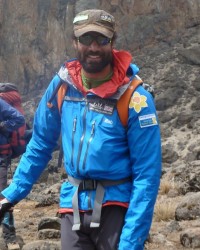 Richard has been shortlisted for the Celebrity Fundraiser of the Year Award at the 2012 Just Giving Awards. Richard Parks' 737 Challenge aims to raise £1m in aid of Marie Curie Cancer Care and since making history in 2011, becoming the first ever person to climb the highest mountain on each of the world's continents and stand on all 3 poles in the same year, Richard's 737 Challenge has raised over a quarter of a million pounds.
The shortlist for Celebrity Fundraiser of the Year is as follows:
Richard stated; "I'm surprised, but so amped to be shortlisted in this category and it is awesome to be recognised by Just Giving. I've had such amazing support from the public who have donated so generously helping me towards my target in aid of Marie Curie Cancer Care. Support has come in many ways, from corporate donations, schools to individuals, everyone going the extra mile to help my cause and I cannot thank everyone enough. Both I and the 737 Challenge team have been working really hard fundraising, although very different, it's certainly an equal challenge to actually climbing the mountains and skiing to the poles!".
To date Richard has raised £280,112.59. Since completing his world first expedition in under 7 months, the former rugby player turned adventurer and mountaineer has been flat out fundraising, from talks and appearances, to gala dinners, events and auctions.
He added; "Although it is fantastic to have been recognised by Just Giving, I still have a long way to go and we will be working hard to try and raise further funds in aid of Marie Curie Cancer Care right up until the end of July 2012. I have had such incredible support from so many people and I believe that with all our fundraising initiatives and hard work we can still do so much between now and July".
The 2012 Just Giving awards takes place on Thursday 1st March 2012 at 6.30pm at Shoreditch Town Hall, London.
ABOUT THE JUST GIVING AWARDS
The awards celebrate the achievements of over 380,000 fundraisers and 8,000 charities, which have used the site to raise over £200 million for good causes over the past year. This year, over 850 nominations were made; approximately 300 more than last year.
Anne-Marie Huby, MD at JustGiving, said: "We are overwhelmed by the number of nominations we received this year and also by the enterprising and inspiring ways in which so many people have raised money for their chosen charities. It has been a real joy to read the nominations and learn of fundraisers' and charities' endeavours; the judges have tough decisions ahead of them as there are so many worthy winners for each category.
"It is so important that money continues to be raised as, without fundraisers, many charities would be unable to carry out their much needed and highly valued work."
For the full shortlist for each of the award categories, further information about the Awards or how to donate through JustGiving,please visit www.justgivingawards.com or call the JustGiving Awards helpline on 0845 123 7588.
Donate via just giving and help Rich raise £1m in aid of Marie Curie Cancer Care.